Guitarar Ayers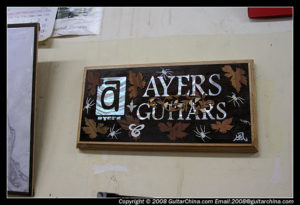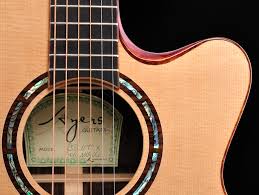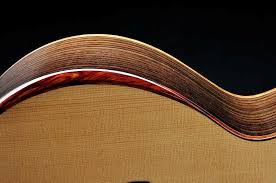 Nakrir av teim bestu akkustisku guitarspælarunum nýta og eiga Ayers guitarar.
Teir seinastu summrarnar tá eg havið verið í Kanada er tað eitt guitarmerkið sum eg hoyri aftur og aftur um og tað er Ayers. Eg havið tosað við fleiri sum hava ognað sær ein Ayers og siga allir at tað er ein av bestu guitarunum á marknaðinum….óansæ prís.
AYERS er eitt Australskt merki sum eru hondgjørdir í Vietnam. Hetta ljóðar kanska undarligt men fyritøkan hevur gjørt guitarar í meir enn 25 ár og eru til dømis teir vælumtóktu MATON akustisku guitararnir gjørdir av Ayers. Gerard Gilet sum er ein heimskendur guitarbyggjari úr Australia er tann sum hevur gjørt og stendur fyri tey modellini sum nú verða markedsførd í Vesturheiminum.
Ayers guitararnir eru allir hondgjørdir og eru teir at rokna sum ein av teim bestu tú kanst fáa. Vanliga verður sagt at teir eru minst líka góðir sum teir Amerikonsku hondgjørdu, sum til dømis Martin, Guild, Gibson, Taylor osv. men fyri ein nógv minni penging.
Eisini kann viðmerkjast at Dennis sum áður var álítismaður á Taylor guitarfabrikkini í USA hevur nú í nøkur ár arbeitt hjá Ayers.
Her eru nakrir sum umrøða Ayers guitarar.
New guitar just in: Ayers FCSO by Tommy Emmanuel
https://www.youtube.com/watch?v=oG8mFVkQZ4s
https://www.youtube.com/watch?v=_gAVaF_HB0o
I went to a big (and very professional) guitar store yesterday to get some advice on my current acoustic, because I'm considering to get some work done on it. While in the shop, the guy pointed out an acoustic of a brand I'd never heard of before: Ayers. It's an Australian company that designs the guitars and selects the tonewoods. Instead of building them by hand in Oz (which would make the guitars expensive), they opened up a workshop in Vietnam and over a period of time taught a handful of select Vietnamese luthiers to build their designs – by hand, from scratch. The Dutch store owner had seen these guitars during the 2008 NAMM show in LA, was suitably impressed and had contacted the European distributor. It turned out the distributor wanted off the contract with Ayers for whatever reason. So the store bought the entire stock and is the only shop in Holland (perhaps even Europe) that sells them. When I walked in yesterday, there were only 5 left, one of which was a stunning little parlour guitar. I played them all and fell for them – head over heels, I might add. This morning I went back to see if I'd still be as excited after a good night's sleep. I was. The choice was very difficult, but in the end I bought this guitar:
It's a stunning instrument with an incredible bang for the buck ratio: a wonderfully cut bone nut, ditto bridge, genuine mother of pearl inlays that add a touch of class without turning the thing into a whorehouse, excellent electronics (a Fishman system), fretwork that beats pretty much every stock guitar out there apart from mega-$ custom shop work and incredible playability. No 2 of them are the same – they're 100% handmade and so there are subtle differences between them. What attracted me a lot is the fact that the neck width at the nut is larger than usual. In short, the neck is wide and flat and plays like a dream. I've always liked that (the neck on my Hagström electric is similar). Acoustically, this guitar is awesome. The sound is very, very happening. I've not had much chance to play with it when plugged in, so more on that later.
For the record, I pitted (samanlíknaði) this thing against similarly prized guitars from Taylor, L'Arrivée, Garrison and Washburn. Those were much more basic in terms of looks (difference #1). In terms of sound, only the Taylor could hang with it while the others fell short (difference #2) in terms of richness, balance, depth and compression. In terms of playability, you can't really compare it because the neck of the Ayers is much wider and flatter and that's a very personal thing. Taylor is a benchmark for acoustic playability and I've yet to see a Taylor that doesn't play like a dream. I prefer the neck of the Ayers, though, because of its extra width.
I also pitted it against guitars that cost twice (or more) as much, just to see what the extra money buys you. For this, I used a 7,000 euro (!!) R. Taylor masterpiece (not to be confused with ordinary Taylors – that "R." in front makes all the difference), a 3,900 euro Gibson Jumbo and a 4,500 euro Breedlove. In all honesty, the Gibson was a joke. It was pretty sad. The R. Taylor was stunning in every aspect. It plays better than my Ayers, it sounds better and it looks better. It also costs 7 times as much but performs roughly 1.5 times better. The Breedlove is ugly with its pointed headstock (at least I think so) but otherwise it is darn near perfect. Like the Taylor, you have to pay multiples of the price for fractional improvements. I was not at all bummed that I could not take that R. Taylor home. That Ayers really jazzed me.
Gary Shepherd
It's great to see Ayers Guitars on MySpace. These are the best guitars I've ever played, at a fraction of the cost of some better known big-name brands. My son Sam and I searched for these guitars when we became aware of them, and have played them exclusively since that time. To anyone reading this comment, do yourself a favour, if you're looking for a new acoustic guitar – go and find, and play an Ayers, before buying anything else.
Mike Ellis is currently performing and teaching in the Dallas area. He has thirty-eight years of music instruction experience and apprenticed with one of the greatest instructors of our time, Mr. Terrill Gardner. Terrill taught Mike in the art of music instruction.
Mike has been performing since the age of thirteen and has played with a broad and diverse group of players, even Academy Award Winner Robert Duvall. He's performed on a number of albums over the years.
Mike's comments on his Ayers A-01ce Acoustic Electric Guitar. "It's the best guitar I've ever played. It fits me even better than the Taylors. Thanks to Mark Kruezer and Ayers for bringing Ayers guitars into my life."
Ron… San Francisco CA Ayers wins on 3 fronts in the guitar collectors world. Incredible sound, beautiful looks and amazing value. My 06 Series "Blond Bombshell" is hanging on my wall looking like a work of art… and it sounds like a work of art too. Even my non-musican friends can recognized a difference in tone. That Englemann Spruce really lets out the high and low E along with significant overtones. In the value category, I would have expected to pay more than twice the retail price. Very impressive on all fronts!
Brent… Madison WI "I've been fortunate to have some great guitars here and there: Froggy Bottom, Goodall, Kronbauer, Fox, Thompson, SCGC, Martins and Taylors of all shapes and woods. I'm as enthused about this one as ANY I've ever had. I've got an AMAZING guitar at just an unreal price. Easily and by far the best for the buck I've every done.
But regardless… this isn't just a "great guitar for the money." It's a great guitar. It stands up to U.S. built small shop guitars easily.
Ayers D02 review on Acoustic Guitar Magazine
Acoustic Guitar reviews a bright-sounding dreadnought made of unusual Vietnamese mahogany with all-wood binding.
The Specs:
Dreadnought body size. Solid Sitka spruce top. Solid Vietnamese mahogany back, sides, and neck. East Indian rosewood bridge, fingerboard, and headstock overlay. Maple and padauk body binding. X-bracing. 11 1/16-inch nut width. 2 1/4-inch string spacing at the saddle. Gloss polyurethane body finish. Satin polyurethane finish on the neck. Chrome Gotoh tuners. D'Addario EXP-16 strings (.012–.053). Made in Vietnam.
This Is Cool:
Beautiful, unusual rosewood soundhole rosette. Sharp-looking padauk and maple binding.
Watch For:
Gloss finish is a little thick; sound may be too bright for some.
Distributed in Asia and Australia for more than 20 years, Vietnamese-made Ayers guitars are finally available in the United States. In 1991, master luthier Gerard Gilet was brought in to help with design and quality-control issues, and about four or five years ago, the company decided to create a line for the Western market, with a heavy presence at Europe's premier trade show, Musikmesse. We received the D-02, an all-solid-wood mahogany dreadnought, for review, and Ayers also offers auditorium, small jumbo, and orchestra body styles, plus a nylon-string and travel-size steel-string. Tonewoods include Sitka and Engelmann spruce, African and Vietnamese mahogany, western red cedar, koa, Vietnamese and Indian rosewood, and ovangkol. Each guitar is hand-built in a factory that employs 100 Vietnamese journeymen supervised by five master luthiers.
Natural Simplicity
The Ayers D-02 has a simple, natural elegance, with minimal inlays and all-wood binding. Our review instrument has a tight-grained Sitka spruce top and book-matched Vietnamese mahogany back and sides that have a striking and very unusual grain pattern, possibly from the way the wood was cut. The instrument is bound in padauk and maple, with a thin black strip dividing and accenting the woods. The centerpiece of this guitar is the soundhole rosette, a thick, beautiful rosewood ring with a black-and-white border to distinguish it from the spruce top.
Overall, the D-02 is very cleanly built, with exceptional binding work, clean glue joints, and no overspray. The gloss finish is a little thick, with slight but noticeable pitting when examined closely, but the satin-finish neck looks and feels great.
Ergonomic Neck Profile
I typically prefer wider, 1 3/4-inch necks, but due to the low, smooth, and even profile, I was quite comfortable with the D-02's 111/16-inch nut width. The B string buzzed a bit against the first fret, but a quick setup by a qualified luthier would solve this problem. The action was set at a comfortable height, and it remained even up the fingerboard, with no buzzing or fretting out. The frets were flawlessly dressed and crowned, with no sharp edges protruding from the fingerboard. The satin finish felt smooth and fast.
A Bright, Shining Star
The D-02 is a very bright guitar. The highs and high mids ring out, providing a beautiful shine to upper-position triads. When the guitar is strummed with a pick, the initial attack is very crisp, percussive, and loud, and this is followed by a resonant sustain and long decay. Fingerpicking warms the attack considerably while giving off a bright, almost metallic ring. When played with basic Travis picking, the D-02 provided a pleasing contrast to a solo baritone folksinger.
The guitar's shimmering sound led me to play some New Age–sounding chords against a drone A or D string, but the instrument's resonance tends to obscure the voice-leading in four-note jazz chords. The D-02's snappy attack lends itself to Gypsy jazz leads, and its percussive attack helps drive the "le pompe" style of rhythm guitar associated with this music. When it's strummed aggressively in a bluegrass quartet, however, the high overtones become overdriven, producing an out-of-place jangly tone. On flatpicked bluegrass leads, the D-02 cuts right through the mix, but it lacks the warmth associated with Martin-style dreadnoughts. However, heavier strings than the light-gauge set the D-02 ships with might help balance the tone for this style.
Great Dreadnought Value
Overall, the Ayers D-02 is a fantastic instrument and a real value—a beautifully decorated, all-solid-wood guitar that plays and sounds great right out of the box. If you're primarily a bluegrass picker, this might not be your instrument, but the D-02 provides rich colors for solo and ensemble folk singing and contemporary chord progressions, and it even does a decent Selmer/Maccaferri impersonation.